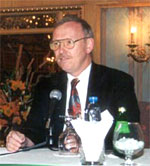 EPSCO is a performance driven 'Service' company, committed to serve its customers with innovative high quality products and services. A unique blend of corporate values, enthusiastic, skilled and experienced staff, quality processes and state of the art technology, are its key differentiation factors in providing best of breed solutions, services and products to customers across the globe.
Mr. Kelvin Bruce founded EPSCO in Dubai in 1995, at the dawn of an age in which the concept of Indoor Air quality was not known. Over the years EPSCO has expanded its horizons by opening multiple offices in UAE, Saudi Arabia, Bahrain, Qatar, Abu Dhabi, Malaysia, Oman, Lebanon and India.
In India, EPSCO was first established in Mumbai in year 2001 and soon branches were opened in Hyderabad and Delhi, followed by Kolkota and Chennai. In just few years of its operations, EPSCO - India already has an impressive list of clients and is the most trusted vendor for its line of services.
EPSCO Hyderabad, Delhi, Chennai and Mumbai branches have gone for individual 'NADCA' certification and each of these branches have an ASCS (Air Systems Cleaning Specialist) on staff.